Radio Brews News Episode 155
On Radio Brews News the Brews News editorial team discuss the beer news of the week.
This week Pete, James and Matt discuss:
And much, much more.
And finally, don't forget we will be counting down the last two hours of the GABS Hottest 100 live on Mixlr. You can either download the Mixlr app to listen on the go or listen and join the chatroom here or here.
You can send feedback and suggestions here.
You can donate to the podcast here.
Keep up with the best conversations in Australian beer. Subscribe to Radio Brews News on iTunes or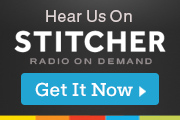 or your favourite podcasting app.