Beer is a Conversation: Dave Bonighton / Ian Morgan
In this week's Beer is a Conversation we meet Dave Bonighton and Ian Morgan from Mountain Goat Beer as the brewery celebrates its 20th anniversary.
Dave Bonighton is a co-founder of Mountain Goat and has stayed on board as a brewing consultant since the brewery's acquisition by by Asahi almost two years ago.
Mountain Goat's current head brewer, Ian Morgan has brewed at Holgate Brewhouse and Asahi.
In this conversation we discuss 20 years of Mountain Goat, the lead up to the sale to Asahi, what has changed since the takeover and the future plans for the brewery.
Keep up with the best conversations in Australian beer. Subscribe to Radio Brews News on iTunes or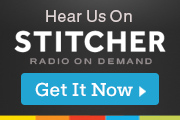 or your favourite podcasting app.