Beer is a Conversation: Owen Johnston / Advanced Hop Products
Today on Beer is a Conversation we chat with Hop Products Australia's Owen Johnston.
OJ as he is better known,  is no stranger to Radio Brews News listeners, both through his role as HPA's Sales and Marketing Manager, or his previous roles as Director with the Craft Beer Industry Association and Head Brewer and General Manager at Tasmania's Moo Brew brewery.
While we have had a number of chats with OJ about all manner of hop topics, this is the first time we have discussed advanced hop products.
Long a feature of mainstream brewing, advanced hop products are starting to generate interest in the world of small brewers for the functional benefits they provide the brewer. At the same time, they are creating a discussion around what their use means for notions of 'craft' in brewing.
It's a great chat about an interesting topic. Enjoy the conversation.
Keep up with the best conversations in Australian beer. Subscribe to Radio Brews News on iTunes or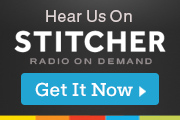 or your favourite podcasting app.